Mojito is a refreshing cocktail from Cuba, made with Lime, Mint, Rum and Simple syrup. Here are recipes to make them individually, or make Mojitos by the pitcher for parties.
A Mojito strikes a perfect balance of tart, sweet, and refreshing, with just a kick of rum. While it is the perfect thing to drink poolside on a warm day, you can also enjoy them on a random Tuesday in the dead of winter when you need reminding that there is a warm and sunny place somewhere.
Making a Mojito looks a lot like you are playing Witch Doctor…muddled mint, rum simple syrup and lime juice with just a splash of club soda. It's served loaded with leaves and slices of lime for an extra punch of flavor.
The history of the Mojito reaches back into time, and is shrouded by mystery. Did it come from Africa? From Cuba? Can Frances Drake be credited? Who knows? You can contemplate while enjoying your drink….
Where Did the Mojito Come From?
Who Came Up With this Flavorful Concoction?
It's generally agreed that the modern version of the Mojito is of Cuban origin. The ingredients Lime, Mint and Rum can all be found on the islands (especially the Rum). In Cuba, the drink is made with sugar cane juice to sweeten it though, instead of simple syrup.
It seems that the Mojito has a long history… not just as an enjoyable drink, but also for medicinal purposes! (That's his story, and he's sticking to it).
In the 1500's, Sir Frances Drake was sailing in the Caribbean, and his crew came down with a combination of scurvy and dysentery (uck… small boat… sick people… bad combo). When they neared Havana, he sent a small shore party into town to find something that might help. Luckily, the local South American Indians had just the thing!
They sent back a mix of aguardiente de caña (an rough early version of rum), limes, mint and sugarcane juice. Lime alone would have helped the scurvy and dysentery, but the rum made things interesting, and the mint and sugarcane juice made the rum palatable. The drink was known for years as "El Draque", after Francis Drake.
Mojito Recipe
How to Make a Proper Mojito
A Mojito is the very definition of refreshing.Minty, limey and soooo delicious. It does take a little more effort to make then simply pouring two liquids together, but it is well worth it.
(on a side note, if you are at a bar and want a mojito…. wait until the bartender isn't dealing with a crowd, or you will get something less than awesome). It's not difficult, and you get to toss around a new word…. muddle.(Muddle basically means to "sort of crush or mash". You can use a spoon, although there are some wonderful muddling tools. )Consider yourself warned… it doesn't seem that strong when you are drinking it, but a Mojito does pack a punch.Enjoy one today in the sunshine…. preferably beside the Ocean…. or maybe poolside…Ingredients–
7 to 8 Mint Leaves, plus a small sprig of Mint to Garnish the Glass
3/4 oz. Simple Syrup (see **note** below)
1/2 Lime
2 oz. Silver Rum (the dark stuff will NOT WORK)
3 oz. Mineral Water
Mix it up–  In a Double Old Fashioned Glass (12-16 oz.)
Put the Mint Leaves, Simple Syrup and a 1/4 cup of the crushed ice  in a glass and muddle them together until the leaves are a bit crushed, but not destroyed.
Squeeze the 1/2 lime into the glass, then toss in the empty lime rind.
Fill the glass with crushed ice (it must be crushed, not cubed), leave some room at the top.
Pour the Rum in and stir until the glass gets a bit frosty looking.
Add the Sparkling Water
Garnish with a mint sprig.
A Muddler is Essential for Making Mojitos
Why not get a good one?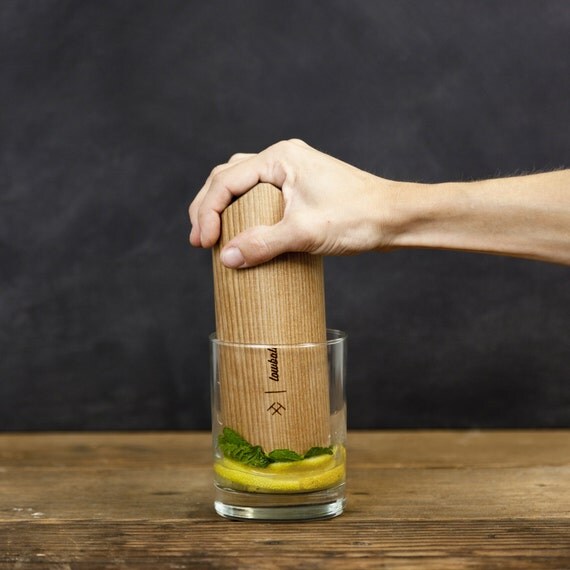 Lowball Wood Cocktail Muddler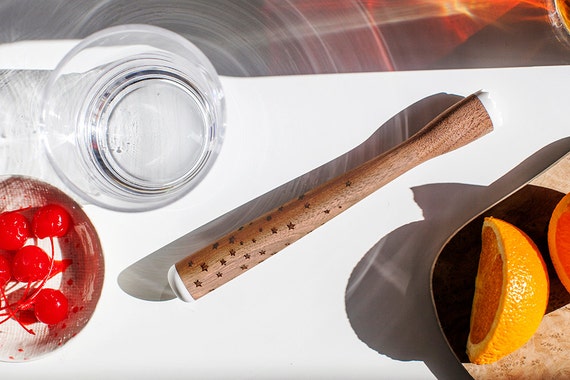 Wood Muddler for Mojitos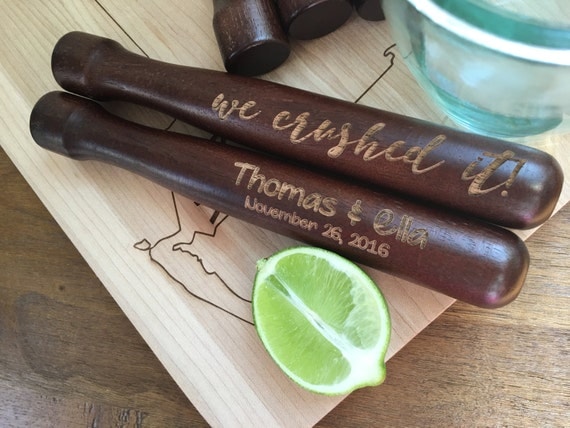 Customized Muddlers!

&
Want to Make a Pitcher of Mojitos?
Pitcher Mojitos Recipe
Making Mojitos by the pitcher is basically the same as making them by the glass, only you get lots more (wahoo!!)
If you want to make these ahead of time, do not add the ice or sparkling water until just before serving (otherwise you get a watered down drink). Just do the muddle and mixing, then stick the pitcher in the fridge… right before you pour the drinks, add the sparkling water, and pour into glasses filled with crushed ice.
INGREDIENTS
3/4 to 1 cup Fresh Mint Leaves – loosely packed (don't be jamming them into the measuring cup)
1 cup Fresh Lime Juice (that stuff in the plastic bottle is for when you are desperate)
3/4 cup Simple Syrup
1 1/2 to 2 cups Silver Rum (you know your audience)
2-3 cups Club Soda (I add more during the day, and less in the evening)
Crushed Ice
INSTRUCTIONS'
Toss the leaves and the lime juice (and the lime rinds, if you have them) into a pitcher, and muddle the mint.
Add the simple syrup and rum.
Give it a stir.
(when you are ready to serve…..)
Add the club soda
Pour into glasses that are prefilled with crushed ice.
garnish with more mint… or a lime wedge
Remember, it's nice to share.